IS THIS YOU, DEAR MOMMA?
You get tears in your eyes as you imagine YOURSELF birthing your baby with ease, rather than fear.
You desire to have a birth that progresses smoothly, without stalling, so you can feel energized as you meet your baby for the very first time.
You are in search of as many tips and tools as possible to help you relieve the intensity of labor naturally, so you can experience the natural birth of your dreams.
You want to avoid being induced, and minimize birth injuries, so you can enjoy your baby and your journey into motherhood more fully.
You have heard that Vaginal Steaming can be GREAT for labor prep, birth and postpartum but you need help learning all of the HOW TO'S...
Vaginal Steaming for Blissful Birthing and Postpartum Rejuvination
is a self paced online course created to help you learn how to use the beautiful art of Vaginal Steaming to support your body, so you can experience the empowering birth and restorative postpartum recovery that you and your baby deserve. 
IN THIS COURSE I WILL TEACH YOU...
How to prepare your body for labor in 3 simple steps which you can start implementing at 36 weeks in your pregnancy


How Vaginal Steaming works and all about the benefits of Steaming for labor and postpartum recovery
How to set up the perfect, relaxing, Steam Space for yourself wherever you plan to birth your baby as well as guide you through all of the supplies that you will need for Steaming
How and when to steam for labor prep, for during labor and for your postpartum recovery
BENEFITS OF VAGINAL STEAMING FOR LABOR, BIRTH & POSTPARTUM
Can help to prevent induction and birth interventions

Helps to relax your mind and body which makes birth much less "painful"

Encourages your cervix to relax and dilate so baby can come out with ease

Can help to prevent birth injuries

Helps to encourage labor to start and can help to prevent stalled labor

Works as an incredible support to your recovery after birth including vaginal soreness, weight loss and hormonal wellness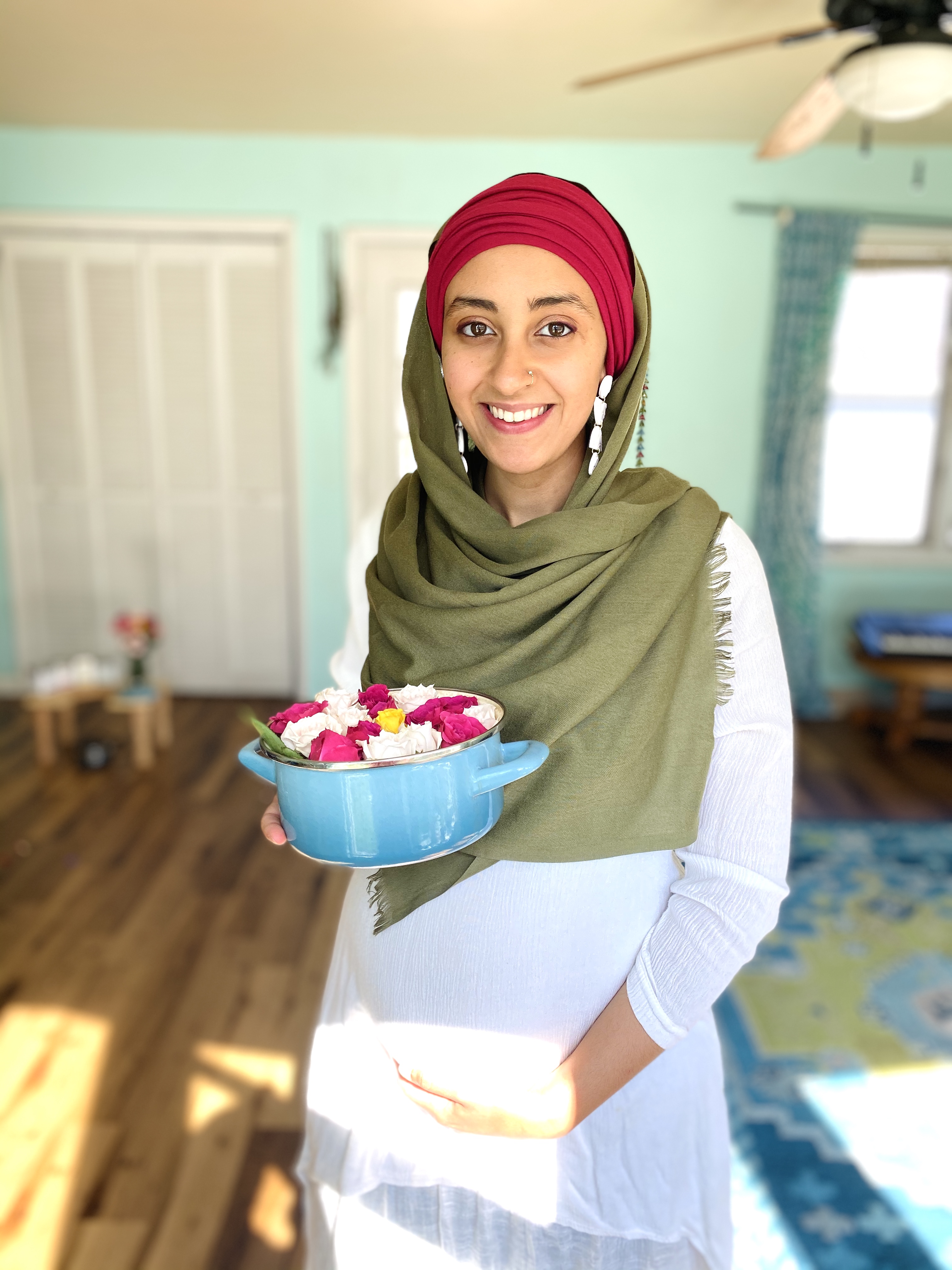 Welcome! I am Sabrina, your Vaginal Steam Doula.
I am a Mother, an Ayurvedic Practitioner and a Vaginal Steam Facilitator located in Wisconsin.
I entered motherhood expecting that it would be a smooth transition, especially since I had waited so long to become a mother. I was not expecting it to be so taxing on my mental, emotional, physical and spiritual health.
Although my natural home birth was incredible, I felt the challenge of trying to heal without guidance and support. That is why you, your birth experience and your recovery are my concern.
My own experience has lit a special type of love and passion in my heart, to assist you during this scared time of transition into mother and healing. I am here to serve you, to love and support you through YOUR special journey.
I look forward to our time together in this course!
With love and gratitude,
Sabrina Elizabeth


THE VALUE BREAKDOWN
Over 2 hours worth of video lecture on the details of Vaginal Steaming for your labor and your postpartum recovery, so you can confidently use steaming to support your body during such a sacred time in your life! 
The Postpartum section also includes information on how to support your healing body holistically through the Ayurvedic Tradition - this is information that I totally wish I had before giving birth the first time! It is information that I am SO happy to have this time around and information that I want YOU to have as well!
Value: $380
Live Group Coaching and Q&A session with me, so you can get all of your questions answered.
Value: $65.00
Mother Nourished Digital Recipe Book
Value: $50.00
Special discounted rate on the supplies that you will need for steaming.
Estimated Savings: $30.00 
Detailed resource list - something that I totally wish I had when I was pregnant!
Invaluable
Total Course Value: $525
Your investment is over half off this price when you sign up by Wednesday July 8th!
Read what other momma's are saying!
"Using Sabrina's Vaginal steaming herbs after birth was comforting and substantial to my healing postpartum. I actually tore pretty severely and had difficult time sitting, the steaming helped the swelling and I felt I healed at a more rapid rate. Furthermore I would also recommend Sabrina's steaming herbs as another alternative for healing from a miscarriage. I also used her herbs to steam after my miscarriage which made the process much more easier both in physical and emotional way."
-MR
"This course was an amazing step in the right direction! It was a great combination of information and practices that you can put into action in your everyday life. I loved that each of the practices were described in detail and were completely customizable to each woman's needs and circumstances. Sabrina was a fantastic instructor, truly so generous with her time and knowledge and lovely to interact with." 
 -AB
"I contacted Sabrina when I was over 6 weeks postpartum. I was healing wonderfully but had a quite intense discomfort while urinating that simply wouldn't go away. I had a wonderful but very short and forceful birth so my urinary tract was tense and "pressed". It felt like a constant pressure and ache, especially when going to the bathroom. After getting the info I needed from Sabrina I tried vaginal steaming for the first time in my life. The feeling was soooo soothing and relaxing. I felt it was the ultimate self-care! After my steaming session I had an intense urge to go the bathroom and suddenly no discomfort! At all! Never again! I am still steaming, and I find it a wonderful practice both physically and spiritually. I'm so so so glad I found Sabrina!"
-UB